1,200 billion euros: this is the value of the international sports industry. If we focus just on the US, sport is worth 71.1 billion dollars. Not much when compared with the American Generation Z's 140 billion dollars of spending power, don't you think? (Bloomberg 2019)
Sports professionals can no longer ignore the challenge facing them: attracting and winning over Generation Z, with practices and consumer habits differing from previous generations. What are young people's aspirations? What do they expect from sport? And what kind of experience will attract their attention? In this article, we provide some of the answers.
Millenials vs Gen Z
Do you know the Millennials? They were born between 1981 and 1996. This is a generation of big sports fans: playing sport, consuming sport, watching sport.
Their arrival in adulthood in the 2010s coincided with an exponential growth in the sports industry. In the US and Canada, the value of the sports market rose from 49.9 billion to 71.1 billion dollars in 8 years (40% growth from 2010 to 2018) according to PwC. Growth was boosted by broadcasting and sponsorship contracts that have hit the summits.
But the bad news is that Generation Z, the next wave of consumers, is very different.
Gen-Zers: who are they?

Generation Z follows Generation Y (the Millennials).
They were born between 1997 and 2010, and number 1.8 billion (32% of the world's population). This is the biggest generation in history (no less). To give you an idea, there are 12.2 million of them in France, and they account for 20.3% of the population in the US.
"Digital natives", "Zoomers", "Generation Covid"... They grew up with smartphones (the iPhone 5s was launched in 2013) and the social networks (Instagram was founded in 2010). They are described as "materialistic", "self-absorbed", "fans of zapping" and "disillusioned"... Without constant stimulation, they soon get bored. But above all, they are aware of belonging to a different generation and proclaim it, just as they are aware of the world around them: they are very mature concerning political issues and very committed about environmental and social themes, which makes them discerning consumers.
Gen Z and sport: where are the fans?
If you only remember one number, here it is: only 53% of Gen Z identify as fans of sport, compared with 69% of Millennials and 63% of adults generally.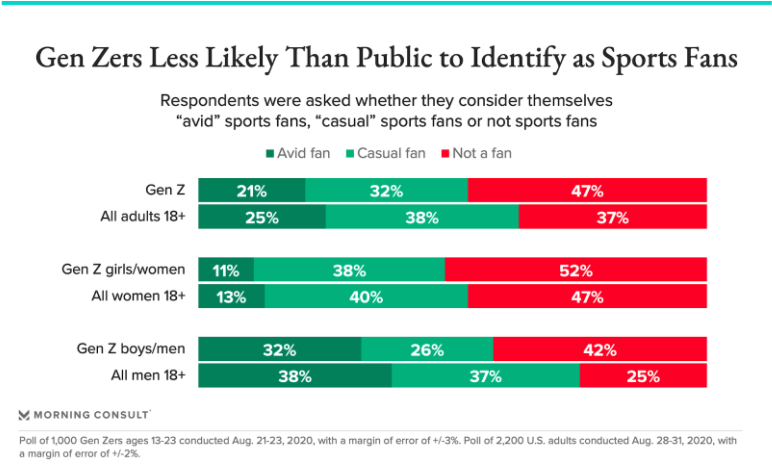 Copyright Morning consult
This waning interest is obviously seen in the amount of sport consumed by Generation Z: only 1 out of 4 of them say they watch live sport once a week (compared with 1 out of 2 Millennials). Generation Z is also more likely never to watch live sport (39%). We can raise questions here about the impact of dividing up the broadcasting rights for some sports (such as football in France) and the cost of subscriptions. What is sure is that the era of watching television in the living room is over. Generation Z prefers to watch sport on their mobiles (65%).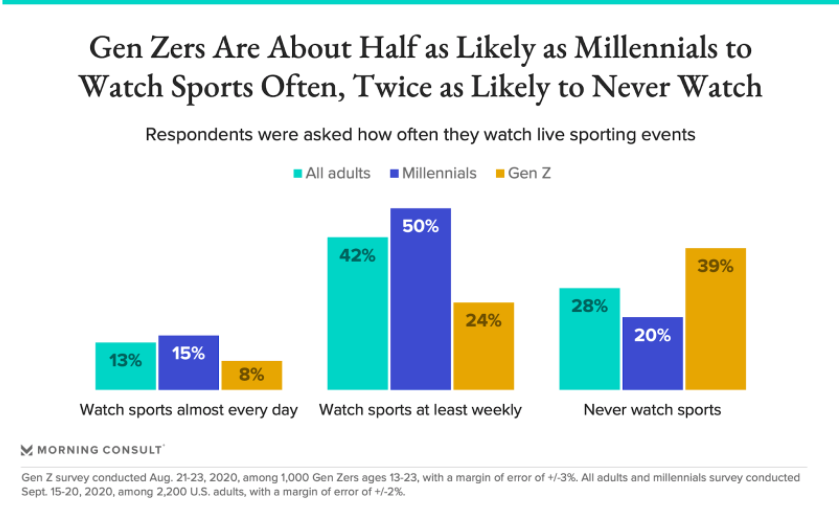 Copyright Morning consult
On the other hand, although they are less keen on sport than their predecessors, Gen-Zers are also fans of sports stars! New practices enable them to connect directly with sports stars, without going through organisations. And sportsmen and women have learned to use the social networks as a forum and a way to gather together supporters.
"The world of sport is changing: young people now follow players rather than clubs or a league. They want a direct connection with the players." - Heidi Browning, Chief Marketing Officer, NHL
A vast study was carried out in the US by Morning Consult on the subject, and here are a few results:
Among young Americans' top 5 sports stars, 4 are NBA players (in order: Kobe Bryant, Lebron James, Stephen Curry and Michael Jordan). Only the seven-time Ballon d'Or winner Lionel Messi is ranked up with the basketball legends, in 3rd place.
There are 2 women in Generation Z's top 10 favourite sports people in the US: unsurprisingly, they are Serena Williams (8th) and Simone Biles (10th).
3% of those polled chose an e-sport player as their favourite sportsperson. This is the same percentage as for tennis players, racing car drivers and NHL players.
Gen Z and sport: where are the players?
Since 2019, the number of sports federation members has drastically fallen in France.
Not flexible, not digital, not adapted to what younger people are looking for? The more "traditional" approach to sport is not to the liking of Generation Z. The Covid-19 pandemic helped to speed up the trend. It is estimated that the number of club members in France will fall by 20 to 30% during the health crisis.
But even though they are not joining clubs or playing a single sport, Gen Z continue to play sport! But differently.
According to an Amaury Media - UNION Sport & Cycle study, sport is the 3rd favourite form of entertainment for the French Gen Z, and 63% of them play a sport. But the aim is not competition. Sport is seen more as a source of enjoyment and fun. "Enjoying yourself", "having fun" and "feeling good" are the sources of motivation most often mentioned by Generation Z when it comes to playing sport.
How to attract and win over Gen-Zers
Challenge n°1: sport needs to improve its image
Because sport has such an incredible influence, it cannot escape the problems of society or the concerns of Generation Z, including racism, sexual harassment, equality between men and women, and preserving the environment.
Recently, sport has been shaken by a range of scandals, which were widely covered in the media and (rightly) angered younger people. The huge differences in prize money between women and men are no longer accepted (as, for example, in the Paris-Roubaix cycling race). Racist chants and insults (by some Serie A supporters in Italy, for example) are no longer tolerated. Calls for boycotts are more frequent in order to denounce infringements of human rights in countries organising major sports events.
With more at stake than just improving its image, the world of sport is facing a duty to show an example if its wants to connect to the new generation.
The good news is that these combats are also (and already) being fought by increasingly militant sports stars. We might think of Jesse Owens and Muhammad Ali, and in more recent times Colin Kaepernick, Lewis Hamilton, Naomi Osaka and Simone Biles, to name but a few.
Alongside individual commitments, positive actions have also been undertaken by other participants in the world of sport, who have no hesitation in speaking out and taking a stand on social issues: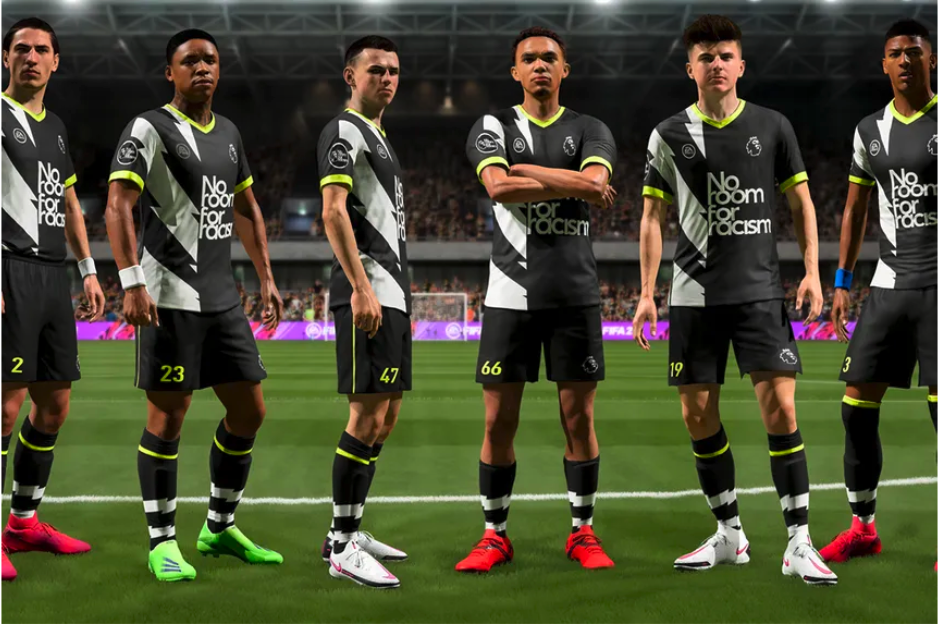 Challenge n°2: sport must be committed to the environment
Generation Z is also the Greta Thunberg generation: they are deeply committed to protecting the environment. In 2020, 38% of young French people (aged 18 to 24) said they were worried by global warming, compared with 29% of French people as a whole.
If it wants to continue the conversation with the younger generations, the world of sport must make a commitment to the environment.
→ We have looked in more detail at the role of sports leaders in favour of action against climate change in our article "Climate change: how will sport be impacted?"

Some have already made the change, including the biggest of them all: the Paris 2024 Olympic Games organisers have been active in publicising their commitments and their promise to minimise the Olympic Games' carbon footprint. Some sports sponsors are also involved in the issue of ecological transition. Among them is Heineken, with 100% recycled trophies for the Dutch Grand Prix. Among the major sports organisations, the English Premier League is a trailblazer, for example, with the first zero-carbon match between Tottenham and Chelsea.
Challenge n°3: Sport needs to be reinvented

To prevent an unbridgeable gulf opening up between Generation Z and sport, they will have to be given a new experience.
A new fan experience
Generation Z behaves and consumes differently. Zapping culture has changed the situation, and the generation's youngest members have an average of 8.7 different social networks.
Do you know Generation Z's average attention span?
8 seconds. Which is 1 second less than the Millennials.
This raises questions about the length of a football match (an hour and a half) today. In 2020, viewing figures for the French football Ligue 1 were well down (minus 39% excepting tablets and smartphones). But it is hard to say if there is a real disenchantment among young people or if the lower viewing figures are caused by match broadcasting being divided up or by the high prices for subscribing to the TV channels concerned. The traditional format of 2x45 minutes is today often called into question by the soccer authorities, since the experience does not seem to attract Generation Z.
Members of Generation Z are not interested in being passive spectators of the game. For the world of sport, it would be worthwhile to take inspiration from video games and e-sport, including gamification, betting and interactive and fantasy aspects. A more engaging experience needs to be created, one helping the consumer to become more active.
Rather than passively consuming sports content, Generation Z wants to play a role. So a more customised experience needs to be on offer. And this is the stated aim of the NBA, which is reinventing its streaming service, and the goal of the NFL, which has teamed up with Twitter to produce new content.

New experiences, new practices

As we have seen, sports clubs no longer attract Gen Z.
Today, young people are looking for more sociable practices, more focused on enjoyment, on new, more flexible formats. "Old style" sport is finished, with training on Wednesday evening and a match on Sunday. Generation Z wants to experiment, to try out different sports and to share everything with their friends.
To attract Generation Z, new types of experiences are emerging.
→ We discuss these virtual and hybrid sports experiences in the article "10 examples of innovative sports experiences"
What you need to remember
The world of sport is not in crisis. But it needs to adapt if it wants to continue to attract more and more players and fans, to adapt to new social issues and to win over Generation Z.
Changes in consuming and practices will not happen overnight, but those involved in the world of sport should be anticipating the movement now. The biggest generation in history is also a big opportunity for everyone involved in sport.