Health in sports is no longer limited to treating physical injuries (and fortunately so). Thanks to the courageous words of athletes, the topic of mental health is now visible. Naomi Osaka in tennis, Simone Biles in gymnastics, Carl Hayman in rugby, or NBA player Kevin Love: more and more athletes are revealing their mental unwellness.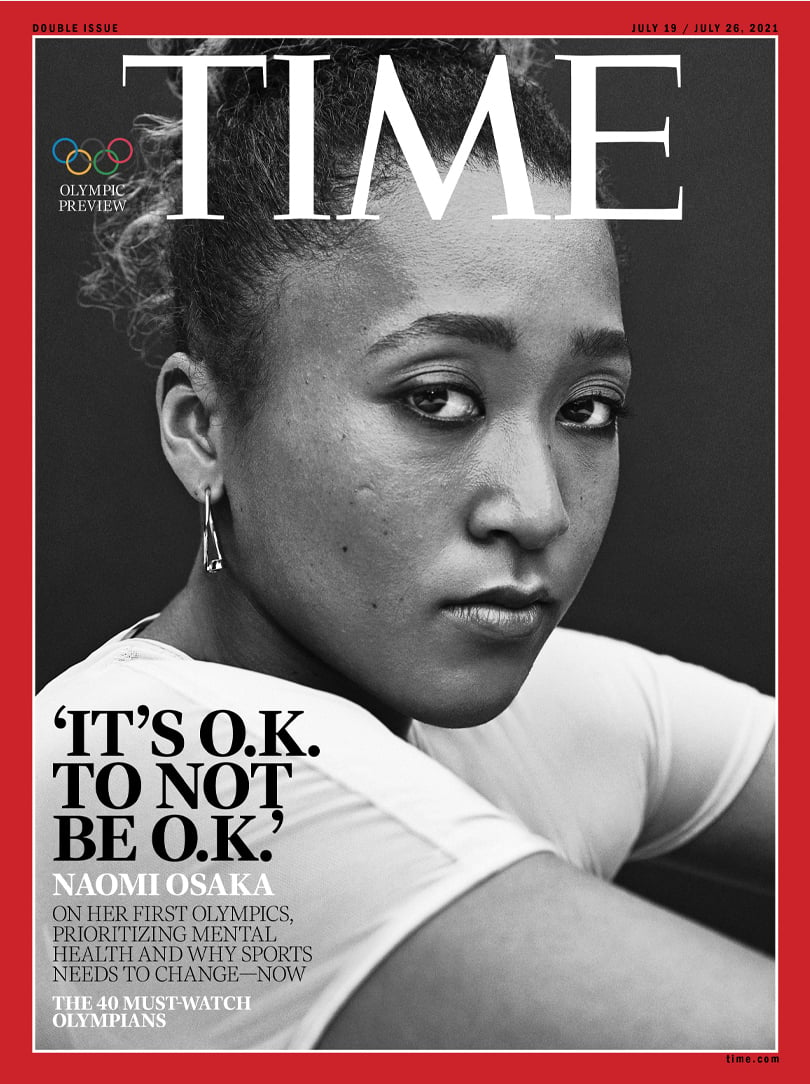 The pressure of results, insults from the public and fans, fear of failure, search for perfection, fear of disappointment, difficult career paths or ultra-mediatization can all impact athletes' mental health.
Physical shocks can also lead to mental health problems. At the end of 2020, a hundred or so former international rugby players decided to file a complaint against World Rugby for inadequate treatment of concussions that endangered their mental health. Some of them are now suffering from early signs of dementia.
"I truly do feel like I have the weight of the world on my shoulders at times. I know I brush it off and make it seem like pressure doesn't affect me but damn sometimes it's hard" - Simone Biles
Mental health troubles still are sometimes seen as an admission of weakness in sports. And because athletes are lucky enough to make a living from their passion, the industry and society do not accept or find it difficult to accept, that they too can be affected by depression or burn-out.
But the increasing number of speeches by these militant athletes is having an impact! More and more sports brands and sponsors are taking a stand. And athletes are the first to take the problem head-on by investing in solutions for better prevention and management of mental health.
Sports brands and mental health
Stop talking about sports: talk about physical and mental well-being.
More and more sports brands are changing their approach and developing solutions to take care of athletes' mental health. Supporting athletes is not only about helping them achieve their goals and improve their performance, it is also about helping them preserve their mental health.
These positions have benefits in terms of brand image, attractiveness, and credibility because brands can offer a complete solution and position themselves as a major player in the overall health of athletes.
ASICS
Mental health has always been in ASICS's DNA.
The sportswear brand offers its partner athletes psychological support from mental health experts. This is the case, for example, with tennis player and world number one Iga Świątek, who is assisted by a psychologist.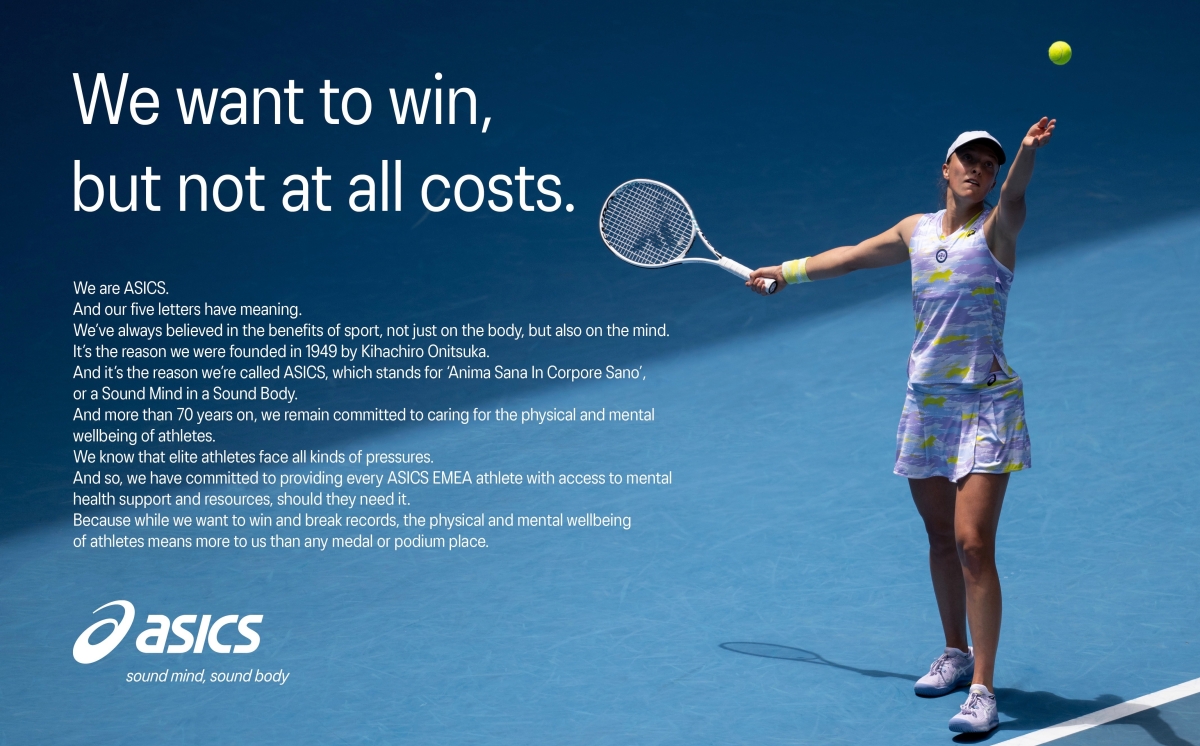 ASICS also launched the campaign "we want to win, but not at all costs". To reinforce its message, the brand created a support kit to take care of one's mental health on a daily basis. This was an opportunity to reaffirm its positioning: a healthy mind in a healthy body.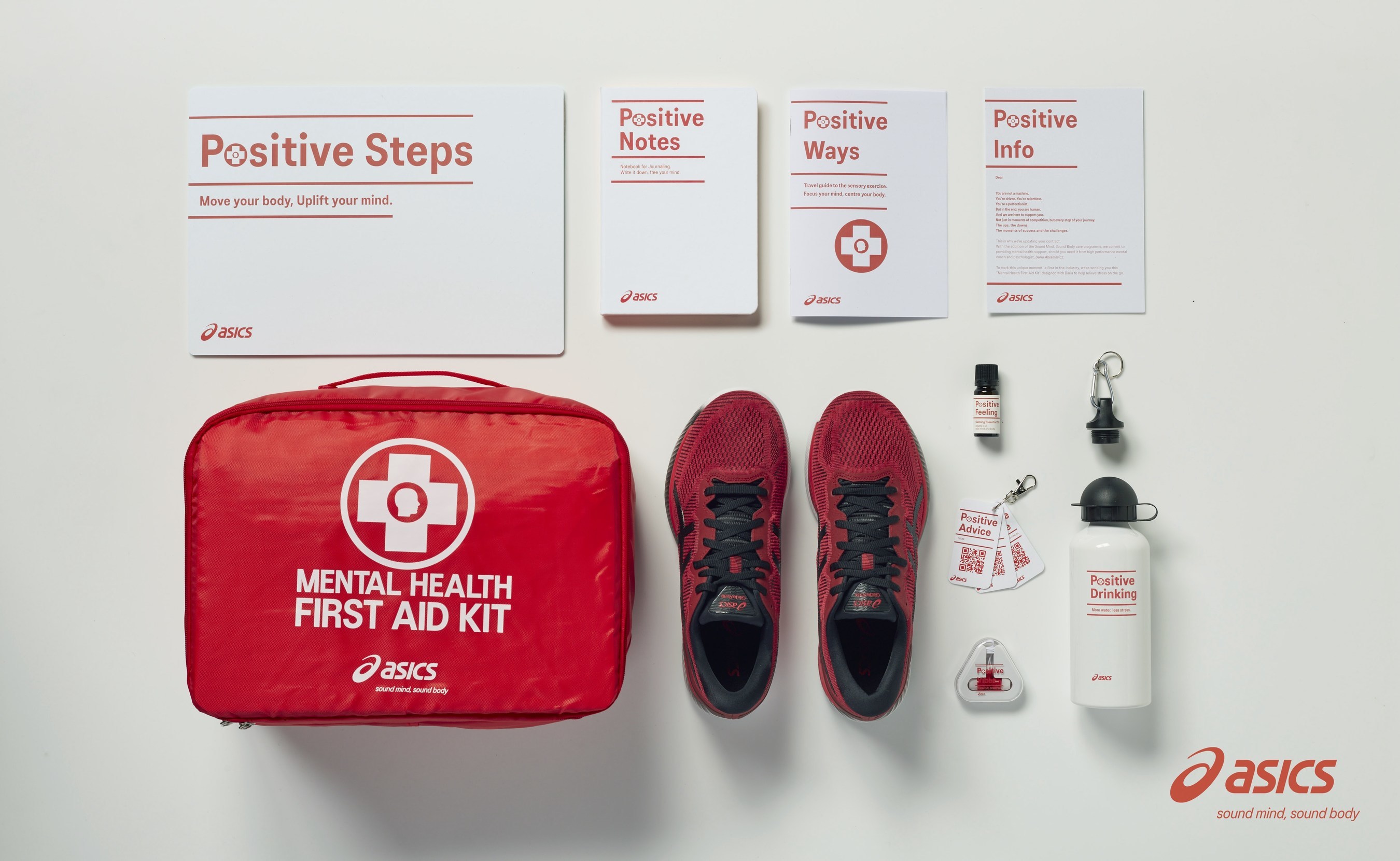 The brand believes that physical activity plays a key role in improving mental well-being. To prove it, ASICS launched a global study called "Mind Uplifter". Scientific experts equipped with EEG (electroencephalogram) devices measured and captured the emotions of athletes and sportspeople to prove the benefits of movement on the mind: just 15 minutes and 9 seconds of physical activity per day is enough to start feeling the positive effects on the mind.
Nike
Through the Nike Training Club app, the sportswear giant offers a holistic approach to wellness and encourages sports enthusiasts to take care of their bodies as well as their minds. Members have access to training and advice on how to get fit, as well as relaxation and/or meditation sessions for mental fitness.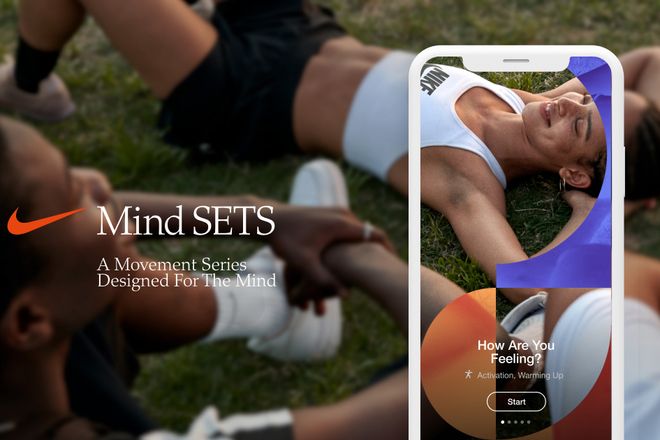 Nike has also launched the content series "Nike Mind Sets", changing its famous "Just Do It" approach to "How are you feeling?* to highlight the benefits of physical activity for the mind. The program focuses on how members feel by encouraging them to take care of their mental health. They have access to personalized features, podcasts to combat burn-outs, or audio guides for running and walking.
New Balance
This is not the first time that New Balance and District Vision (eyewear) have partnered. But they chose to focus on mental health for the launch of their latest collection in March 2022.
The two brands have launched a series of District Vision tapes online courses on mental wellbeing to raise awareness and educate sports enthusiasts.
Some of these online courses are based on the daily lives of professional athletes such as Emily Sisson or Brenda Martinez who offer tips for mental health. This holistic approach emphasises the importance of mental health for physical activity and the benefits of sports for well-being.
Athletes who invest in mental health
According to the Australian Institute of Sport, 1 in 3 athletes have experienced symptoms of anxiety or depression that require medical attention.
If athletes no longer hesitate (or rather hesitate less) to take a stand on societal and environmental issues, this is now also the case on mental health issues. Some athletes have the courage to speak out about their depression, burn-outs, and anxieties.
Because they can engage their fan communities and sponsors, they are the best ambassadors for making mental health a priority in sports. And when that's not enough: they invest.
Athletes invested over $2.4 billion in mental health businesses in 2021. This is hardly surprising given the number of athletes who are taking up the issue.
NBA star Kevin Love has invested in Coa, a gym for mental health. American football player Megan Rapinoe has invested in the online therapy startup Real. NFL player Richard Sherman with Nurosene, a digital mental health platform that has launched an app dedicated to the mental performance of athletes. And after speaking out on mental health during the Tokyo Olympics, Simone Biles also decided to get more involved in the issue and joined the mental health startup Cerebral as Chief Impact Officer.


Mental health is finally at the heart of the concerns of the sports world. Long neglected, global well-being is now in the spotlight thanks to sportsmen and women who are the first to speak out on this issue. It is also a way for them to address the problem of mental health in society as a whole and to help those who need it to express their unwellness and o treat their mental problems.
© Gregory Bull, Associated Press