The global wellness economy is not experiencing any crisis. On the contrary. Since the pandemic, there has been increasing talk about the importance of self-care, well-being, and wellness. Although wellness is a vast and complex concept to grasp, the market is indeed booming and the prospects are (very) attractive for brands.
Our explanations in this article.
A growing market
The health crisis has struck.
For many months, anxiety and depression have affected people's morale, leading them to take refuge in wellness, and to become more and more concerned about their physical and mental health and the means to preserve it. All means: sport, nutrition, meditation, sleep... We thus speak of a holistic approach: taking into account well-being in all its dimensions.
According to the Global Wellness Institute, the global wellness market was worth 4.4 trillion dollars in 2020.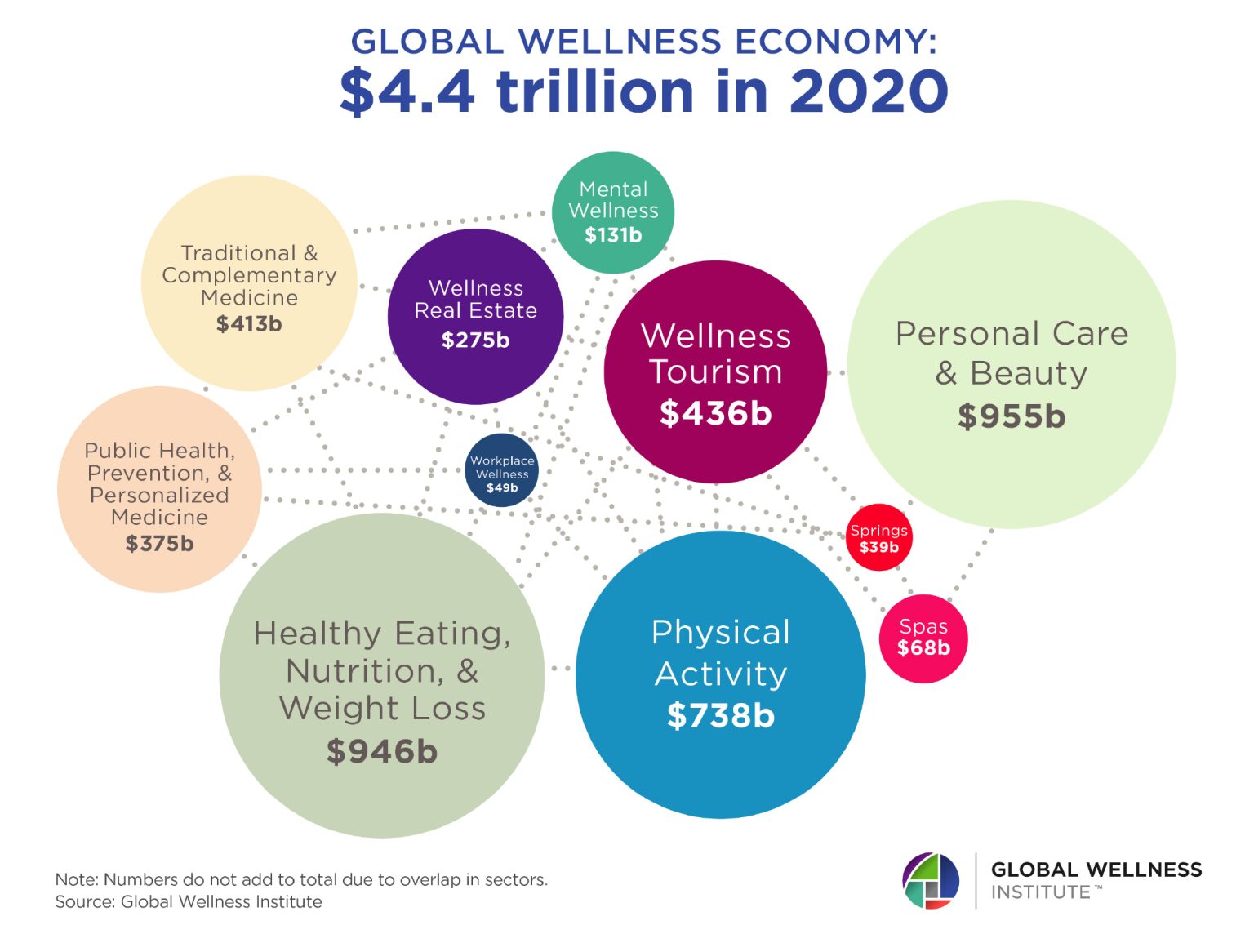 And it won't stop there:
Americans spend over $450 billion a year on wellness (McKinsey).
Wellness is "a top priority in their daily lives" for 50% of Americans in 2022, 8 points higher than in 2020 (McKinsey).
62% of people say that health and wellness activities are the last expense they would cut (Restore Hyper Wellness).
Younger generations spend the most money on wellness (+7% compared to average consumers) (McKinsey).
Rethinking wellness in all its dimensions
The Global Wellness Institute defines wellness as "the active pursuit of activities, choices, and lifestyles that lead to a state of holistic health", thus integrating all physical, mental, emotional, spiritual, social, and environmental dimensions.
McKinsey offers another way of looking at this, by sector, in which players - most often technological - are reinventing wellness practices.
Physical health: in addition to the traditional medical market, we have observed for several years the rise of connected objects (blood pressure monitors, scales, oximeters, glucometers, etc.) and telemedicine, which make it possible to optimise patient monitoring.
Sport: trackers and connected objects are no longer exclusively reserved for athletes and allow everyone to monitor their physical activity. Moreover, sport is no longer seen solely through the prism of performance: individuals are also looking for new, more social, flexible, and personalised sport experiences;
Nutrition: there is a growing public interest in "good" products (organic, local). Not to mention the boom of nutrition apps and dietary supplement brands;
Beauty: self-care and skincare have become increasingly easy with accessible products and aesthetic medicine services that no longer necessarily require the intervention of health specialists;
Sleep: this 500 billion dollar market is experiencing numerous innovations to solve insomnia problems which affect 15 to 20% of the population (Inserm);
Mental health / Mindfulness: emphasised during the health crisis, mental health has become a priority for consumers who are keen on new therapy, meditation and personal development applications.
McKinsey has identified two important consumer expectations that concern all dimensions of wellness. Firstly, the need for services. While 70% of the wellness budget is currently spent on products, 45% of consumers intend to spend more on services (nutritionists, coaching, spas, travel, etc.) over the next year. Personalization, then. Consumers are used to personalized experiences such as Netflix and Spotify, and they expect the same from their wellness services. The collection of data should enable this personalisation of the experience.
Wellness trends to explore
Social wellness
Yoga retreats are already commonplace. Now the trend is towards wellness festivals. These are large-scale events that combine physical activities, sports and wellness, usually in the middle of nature. Visitors combine yoga or climbing sessions, a banquet dinner and a long night of concerts. This trend is a combination of individual and collective wellness practices. Read more on the Financial Times.
Wellness tourism
Consumers are looking to add meaning and value to their travel experiences. Booking's "Travel Predictions 2022" survey confirms this need: 79% of respondents say that travel contributes more to their mental and emotional health than other forms of rest and relaxation. Ecotourism, digital detox, retreats, cures: the wellness tourism market is growing at a rate 50% higher than traditional tourism (source).
Women's wellness
For a long time, women's health was thought of through the prism of men's health, neglecting women's biological characteristics. Women want to reclaim their bodies and their health and brands must be able to offer them experiences adapted to the menstrual cycle and to their life phases (pregnancy, menopause, etc.) to improve their well-being. The Femtech market is gaining ground and is expected to be worth 50 billion dollars by 2025 (Frost & Sullivan).
What about sports brands?
Sport should be seen as a component of wellness. Some brands have already begun to develop new products and services to complement their original offering, others are speaking out on wellness issues, and some are choosing to support wellness associations:
Asics' commitment to mental health is already well known, demonstrating its concern for the global well-being of sportsmen and women.
Six years ago, Lululemon launched the Centre for Social Impact and the "Here to Be" programme, which provides grants and partnerships to associations working to promote inclusive access to sports and well-being activities.
The Whoop connected wristband exceeds traditional fitness trackers by taking into account other dimensions of wellness such as sleep and health (oxygen, heart rate, body temperature).
Arc'Teryx has created the Arc'Teryx Academy, a series of multi-day experiential events that bring together outdoor enthusiasts around sports, festivities and wellness activities.
Wellness is also about employees' well-being. Since the pandemic, Nike offers its employees one extra week off per year to disconnect and take care of their mental health.


The wellness market is an opportunity for sports brands. By taking into account the consumer as a whole and offering services and products that improve wellness in all its dimensions, they can create a complete, virtuous and attractive ecosystem.