The year 2022 will not have been an easy one!
But what we will remember is that 2022 has also been a full year for Sport Heroes, between mutations, confirmations and necessary questionings in a "post-Covid" world (finger crossed!) and an economy in crisis. 2022 is therefore the year of a real turning point, human, technological and global, and the adoption of a brand new vision 🚀
Come on. We're taking you with us on this 2022 retrospective.
Our members and our product ever more at the heart of the reactor
It's not without pride that we can say it: 2022 was the year we made the most significant progress in our product organization. Our users are now firmly at the heart of the way we work and think about our developments and evolutions.
Rome wasn't built in a day, so restructuring our organization was a prerequisite to get there. Starting with (suspense)... the product division!
Martin Vauthier joined Sport Heroes in April to become our first Chief Product Officer and set up a brand new structure. A few nice recruitments later, his team has made it a priority to listen to and understand the issues of our users, partners and customers.
These findings gave birth to...🔥 a new vision for United Heroes, our B2B app dedicated to corporate wellness 🔥 but also many ideas for improvements for all our apps and communities.
A new vision and product strategy was thus presented to the whole team during the annual seminar in September (in Clécy, France), in order to put everyone in the starting blocks. On the way to our new goals!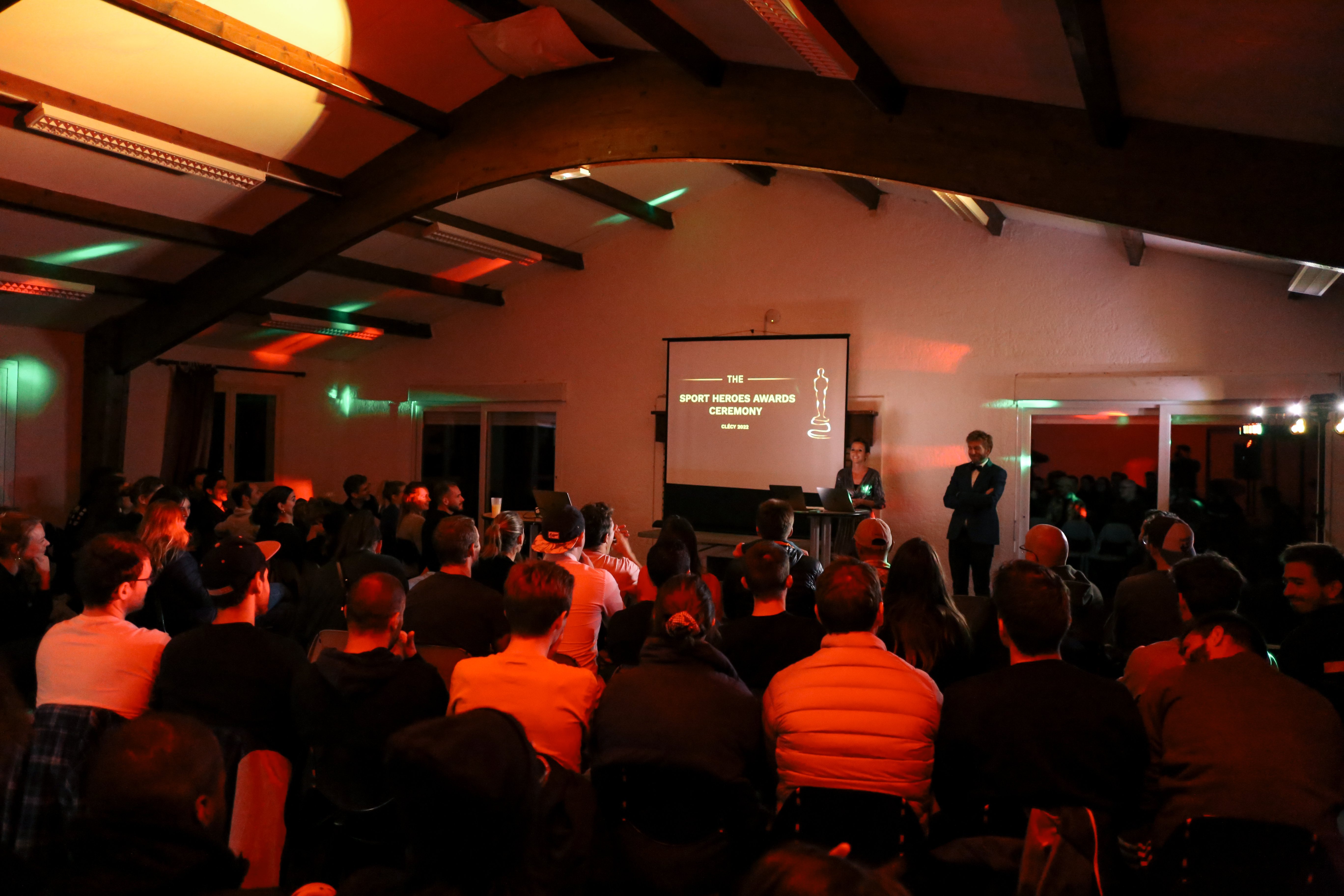 The Sport Heroes team at its 2022 seminar
The new United Heroes vision: sports, but not only
Whether it's customers, partners, users or studies (such as our Running Observatory 2022 or the Year in Review 2022 Report from Strava), the observation is clear:
Global well-being, team cohesion and ethical values are at the heart of the concerns of individuals and companies alike.
We spend most of our time at work. This is where we want to act as a priority to improve the daily life of the greatest number of people by relying on the strength of the collective and the wealth of its differences. - Extract from the United Heroes Manifesto.
With this in mind, United Heroes (our application dedicated to the well-being of employees in companies), has decided to focus its efforts on :
The consideration of the well-being in its globality (physical as well as mental)

Its capacity to generate even more cohesion in the company

Its ability to encourage the adoption of more responsible lifestyles.
This resulted in a great marketing reflection, an internal work on the missions and values of United Heroes, and in fine... (drum roll) 🥁
A clear rebranding, marked by the launch of the new United Heroes website

The birth of new offers, like the Dr.Good! pack, more oriented towards well-being than sport-performance.
As you may have guessed, efforts mean a lot of new features in the weeks, months and years to come. We can't wait to reveal the various new features we have planned!
🎯 Our goal? To become the reference app for anyone who wants to take care of their well-being (physical as well as mental, at work with colleagues, to start, or to improve).
A boost for our events
On April 1, 2022, 100 sports professionals gathered at Voie 15 (Paris) to learn about emerging trends in running through the Running Observatory 2022.
This year, our major annual survey (conducted jointly with Union Sport & Cycle) was conducted among 5230 members of the Running Heroes community, and was the result of the analysis of 7.6 million activities from the tracking of the eponymous application (no less!).
Restitution of the results of the Observatoire du Running 2022 with our partner Union Sport & Cycles, in the exclusive presence of the French Athletics Federation (FFA)
2022 also marks the birth of the Well-Being Lab: a physical event for HR decision-makers to discuss emerging trends in terms of Quality of Life at Work.
Let's be honest: this event was the result of a lot of hard work, as it was "only" the apparent part of a real iceberg. Storytime ⏮
6 months before the Well-Being Lab, our marketing teams conducted a colossal study regarding well-being at work, both from a decision-maker and employee perspective. After collecting, cross-referencing and analyzing more than 1,500 data points, the Well-Being at Work Observatory was born.
This first edition of the Well-Being Lab was the perfect opportunity to unveil the results of this groundbreaking survey. And what a pleasure it was to see that the enthusiasm was there: nearly 150 HR decision-makers made themselves available!
Michel Cymes, a partner of United Heroes (notably as part of the Dr.Good! package), was among us to bring his expert vision on health and well-being throughout the event.
"Thank you for inviting me, thank you for the great organization, thank you for the gifts and no worries for a next event if you invite me again." - Paolo Rodrigues, EDF
It goes without saying that after so much enthusiasm, our teams are already planning a second edition, full of surprises.
Audrey Yvert, Félix de Monts, Victoria Guillomon, Magali Pouchin and Michel Cymes at the "Impact at Work" round table on 13/09/2022 at the Well-Being Lab
2022 is also the birth of a brand new working format with our clients: co-construction workshops, over a good breakfast, in our offices. A golden opportunity to discuss current and future issues and share our expertise.
Increasingly committed (and engaging) challenges
On the corporate side, the actions in favor of solidarity causes were extremely appreciated by our users.
Fortunately, it is this very year that many new impact collaborations were born: enough to satisfy our members in search of ethical actions 🪴
Collections in favor of cancer research (Gustave Roussy), to conduct awareness actions (AFM Telethon), protect the planet (Good Planet Foundation) or fight against breast cancer (Rose-up, Mon bonnet rose, Ruban rose)... In total, more than €300,000 could be donated to our partner associations.
A great pride for us 🙏
But this year (as every year), it was also the great return of the H-GAMES: THE inter-company competition aimed at generating donations for the French Handisport Federation.
For this edition, nearly 100 000€ were collected in favor of the program "les Jeux de l'Avenir" (a program set up to detect future talents and tricolour paralympic medalists). Congratulations again to the 22 000 participants, representing 35 companies. Will we do better next year?
Sport Heroes and the French Handisport Federation at the closing ceremony of the H-GAMES 2022 at the Molitor Hotel
A big congratulations to all of them, and a special mention to the organizations that were able to generate a maximum of commitment from their employees:
Sitel (nearly 248,000 challenges)

Orange (over 150,000 challenges)

Vinci Energies (136,688 challenges)

Bankinter (52,324 challenges)

Castorama (52,305 challenges).
And that's not all...
The Running Heroes runners were also extremely numerous to answer the call this year to release donations to associations. We will remember the beautiful challenge launched by Salomon and the world champion of marathon Anaïs Quemener, which allowed to collect 5 000€ in favor of the Cassiopeea association.
Presentation of the check to the Cassiopeea association, following a run in the presence of Anaïs Quemener
A community of athletes more active than ever
With the return to "normal" or almost normal after two years disrupted by the Covid, Sport Heroes has returned to organizing large-scale events to bring together the many athletes in our communities.
Conquer Races 2022 rolled out in 3 cities with Samsung
After its inauguration in 2021, the Conquer orienteering race is back in force, not in one but in three cities in France! Between May and September 2022, more than 1,000 runners took part in this great puzzle game, aiming to link 4 Conquer Races checkpoints in Lille, Lyon or Paris as fast as possible.
A successful operation carried out with our partners Samsung Electronics France, Paymium, Hyperice & Compeed!
12 bibs won for the iconic Marseille-Cassis (starring Claude from Koh-Lanta) by Hyundai
Through the #RunToProgress operation, our partner Hyundai and Running Heroes have allowed 12 lucky runners to win an exceptional weekend (and of course: a VIP bib!) for the 20 km of Marseille-Cassis. The grail? The presence of Claude Dartois from Koh-Lanta 🔥
On the program of this dream weekend: coaching and sharing with Claude, race, test of Hyundai vehicles…
The PUMA Running Zone Roadshow
Our partner PUMA made test its pair PUMA DEVIATE NITRO 2 during 9 sessions testing in different cities of France! Hundreds of runners were able to test the pair, supervised by professional coaches.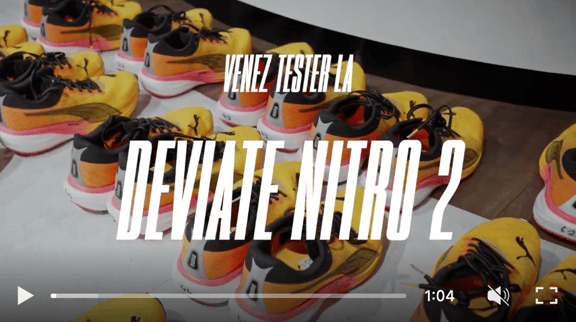 Runners by Nature, the new solidarity operation with Weleda
2022 is the launch of a nice eco-responsible partnership with Weleda, which has been working for 100 years to reconnect humans to nature through natural and organic cosmetics.
Thus, from April 1st to April 30th 2022, the Running Heroes community has been encouraged to accumulate 1 million km to unlock a donation of 10 000 € to La SAUGE, an association developing urban farms.
Goal reached! ✊ 1,030,794 kilometers have been covered by our incredible community of sportsmen and women.
In the end, more than a hundred projects have been realized in this year 2022, alongside about fifty clients. We are very happy to accompany our brands (some of which have been loyal to us since the beginning!), but also extremely proud to have welcomed new partners who have trusted us.
And it's not over yet... Lots of exciting projects are planned for 2023.
Are you looking forward to it? We are.
A general mobilization of the Sport Heroes teams
Working for a committed company is good. Being committed is even better. This year, we are proud to have seen our teams participate in events placed under the sign of diversity and inclusion.
And yes, in June, part of our Paris team had the opportunity to participate in a wheelchair basketball initiation. All this was made possible thanks to our partner FFH and Sofyane Mehiaoui (vice world champion with the French team and sponsor of the 2022 edition of the H-GAMES), the coach of the day!
Wheelchair basketball initiation for some of the Sport Heroes teams
Volunteering was also on the agenda for some of our employees. For example, many of them made themselves available on June 9 and 10, 2022 to help out at the Handisport Open Paris: the biggest disabled athletics meeting in France.
2022, it was also the laying of the first paving stones on the road to 2024
Few are those who do not feel touched by the major event that is preparing for 2024. Can you feel the atmosphere gradually rising?
The initiatives emerge little by little:
The State leads a national campaign against sedentary lifestyle ("Bouger Plus")

The athletes' villages are (literally) taking shape

Ticketing is no longer a dream...
Many companies (partners or not of the Games) are also starting to use this historic event to mobilize, federate and engage their employees. And as experts in workplace well-being and cohesion through sport, our teams are on the starting blocks to help!
#InsideSportHeroes: an HR policy shaped by the needs of our employees
An old adage says that the cobblers are the worst shod. Well not at Sport Heroes!
It is with emotion that this year, we saw no less than 5 Sport Heroes babies being born with three young mothers and two happy fathers! An absolute record for the company (which had not yet had a maternity leave in seven years) and enough to upset the daily life of the concerned ❤️
Neither one nor two, our Human Resources Director Mathilde Salobir took measures in favor of young (and future) parents:
The arrangement of flexible parental leave

The signing of the "parental challenge" commitment charter

The communication of a parenting guide for future parents.
But that's not all: with the team growing at a rapid pace, skills management was a major focus for the HR teams over the past year. To develop talent internally, no less than 1,200 hours of training were conducted in 2022 on various topics, such as management or data. 👩 💻
Finally, to promote the well-being of all, all Sport Heroes talents can :
🧘 practice yoga for free in the office on lunch breaks
💰 have sanitary pads at no cost thanks to Periods
🎧 work remotely - our meeting rooms having been equipped with high quality sound and image equipment.
Thanks to all these efforts, Sport Heroes had the great pleasure of being included in 2022's "HappyIndex®Trainees" ranking of ChooseMyCompany's favorite companies for interns.
The result? Over-motivated talents
The proof: 2022 was a shower of records at Sport Heroes.
A victory in the Manita inter-company soccer tournament

6 finishers at the Valencia marathon

8 medallists at the Paris Marathon

3 heroes at the swim-run Gravity Race in Annecy

4 employees at the Paris Eco Trail

A feat on the ultra-raid mountain bike of La Meije

2 trailers on the SaintéLyon...
Yes, when we say that sport (especially in companies) is a virtuous circle... We know what we are talking about 🙂
Laura Pascual, Laure Jolibois et Paul-Émile Saab at the finish of the Valencia Marathon 2022
Thank you all for this extraordinary year. Whether you are a user, a corporate client, a partner or an employee, you have contributed in one way or another to the turnaround we are currently experiencing.
Thanks to you, we are proving that sport and well-being can be levers for a better, fairer and more responsible world ✊
The year 2023 is shaping up to be full of great events. Always more committed and always more engaging, they will know how to thrill you on this last straight line towards 2024. So, obviously, we advise you to stay connected.
Happy New Year 2023 to all.
Paul-Émile Saab, CEO at Sport Heroes