Amid the buzz around NFTs and metaverses, an increasing number of brands are now releasing their own NFTs and even entering the metaverse. From fashion houses, Gucci and D&G to sports brands Nike and ASICS, major brands across industries are eagerly hopping on the bandwagon. More recently, tech giants Facebook and Microsoft's metaverse move also confers just how significant the metaverse is to today's connected world.
But, what is the metaverse?
In a nutshell, the metaverse is a connected 3D virtual world that incorporates virtual reality (VR), augmented reality (AR), mixed reality (MR) and more into our day-to-day lives. It is touted as the future of the Internet—a virtual world where people, represented by their digital avatars, can work, travel, shop, socialise, play, or do just about anything that they'd do in the real world.
Along with the obvious economic benefits, brands' integration into the metaverse and NFT drops has almost become essential for them to stay relevant. People, especially due to the pandemic, are spending a major part of their days online. Combining this with the global adoption of NFTs, taking this digital leap has become crucial for brands to foster their customer relationships.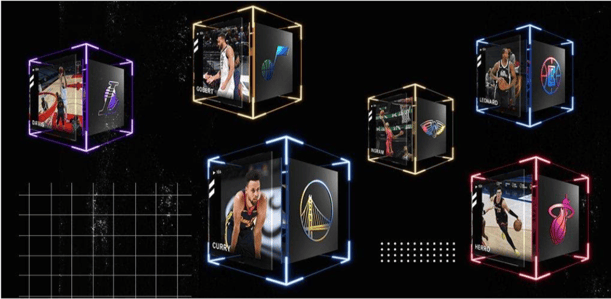 The sports industry has been a pioneer in the NFT space. Credits: NBA Top Shot
The sports industry, in particular, has been at the forefront of the NFT revolution. NFTs have transformed the way both sports clubs and brands connect with their millions of fans across the globe. NFTs and fan tokens create an immersive experience for the fans who can collect digital assets of their favourite players, teams, and brands. Moreover, the tokens often come with added benefits such as exclusive access to the players, autographs, merch drops, and more. NFTs can also represent tickets to sporting events and tournaments. Well, the list goes on!
If all of these elements still seem blurry to you, no worries, we've got you covered : learn more about blockchain, crypto and NFTs with this interview of Yoann Lopez, creator of the Snowball newsletter.
Let's take a look at some of the top sports brands and platforms that have forayed into the world of NFTs:
1. ASICS
Back in July this year, active sportswear company, ASICS dropped its first-ever NFT collection, titled 'The ASICS Sunrise Red'. The 189-piece collection was released as "a celebration of sport" and a step into creating a future where "digital goods inspire physical activity."
Moreover, the brand had a larger goal in mind: to support the digital arts community. For this, all proceeds from the sales were donated to ASICS' new 'Digital Goods Artist-In-Residence Program'. Through the program, the company partners with digital artists in the NFT scene and helps them to showcase their works to a global audience.
The collection featured nine ASICS digital footwear products, including shoes, flip-flops, and sandals with 20 NFTs each. The owners of the NFTs also received 3D models of the items for use in animation projects as well as in various metaverses as wearables for avatars.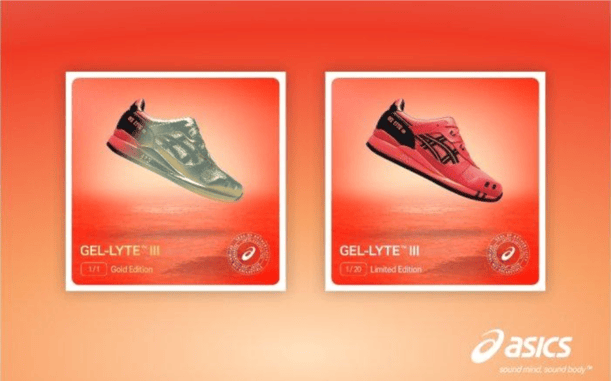 'The ASICS Sunrise Red': ASICS' first NFT collection. Credits: ASICS
2. NBA Top Shot: Moments
When it comes to sports collectibles, Dapper Labs' NBA Top Shot leads the way. It has consistently remained one of the top all-time NFT collections across industries and amassed over $700 million in just under a year. Essentially, it is an NFT marketplace that offers official NBA-licensed highlights or "moments" featuring some of the most remarkable shots in the game as NFT collectibles.
These collectible cards work like real-life trading cards which fans can collect, buy, and sell on the marketplace. In addition to the game highlights, each NFT features the statistics of the player and the game. Some cards, as with most collectibles, are rare and sell for hundreds of thousands of dollars. Several NFTs featuring basketball king LeBron James, for instance, have sold for more than $200,000.
3. Team GB (British Olympic Association)
Team GB, Great Britain's Olympic team, was the first Olympic team to drop its NFT collection. In July 2021, the team partnered with NFT commerce provider, Tokns, clothing designer, Ben Sherman, and UK artist, Ben Mosley, to launch unique NFT collectibles and Olympic-inspired artworks. The launch coincided with the commencement of the Tokyo Olympics and aimed to offer a chance for fans to connect with the team. The collection will run till the end of the Beijing Winter Olympics in 2022.
Some of the NFTs include tokenized wall paintings by Mosley that come with physical and experiential offerings. Most of these paintings are inspired by various moments in the game, including the opening ceremony. Some of the other NFTs, titled 'Gold Medal Moments', celebrate medal-winning moments of Team GB athletes, including gymnast Max Whitlock's double gold medal win.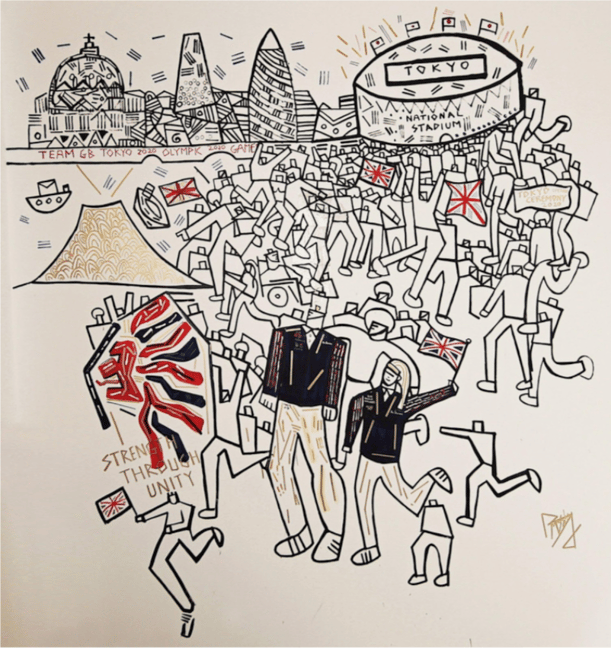 Ben Mosley's 2020 Olympics opening ceremony NFT for Team GB. Credits: teamgbnft.com
4. SportsIcon
Another notable player in the sports NFT world is SportsIcon, a sports-focused NFT platform built on the Flow blockchain. Backed by Dapper Labs CEO, Roham Gharegozlou, and rapper Nas, the platform issues NFTs in collaboration with various athletes. Each NFT is a commemoration of the sports stars' most iconic moments in their sporting history. These are priced between $10 to $999, with the rarest NFTs—where the athletes talk about their greatest moments—priced the highest.
Additionally, the NFTs come with "two-hour masterclasses", where fans can access the players' training methods and best practices. Some NFTs also include real-world benefits such as signed memorabilia and access to box seats at a game. In certain cases, the athletes also donate all proceeds to a charity.
5. Nike
Sports giant, Nike, meanwhile, has already forayed into the metaverse. Just days back, it unveiled its virtual world, called "Nikeland", on video game and metaverse platform, Roblox. The virtual world, modelled after the company's headquarters, features Nike buildings and arenas where players can participate in various games including "Tag" and "Dodgeball". Besides, players can dress up their avatars in exclusive Nike products!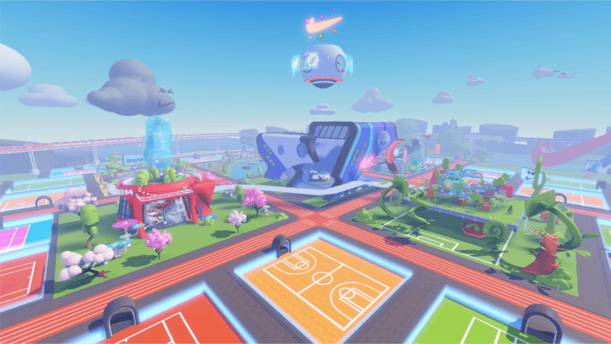 Nike's virtual world, 'Nikeland' in Roblox. Credits: Nike
However, this is not Nike's first stint with the virtual world. Back in 2019, it had partnered with the video game, Fortnite, to release Nike sneakers for the avatars. The same year, it had collaborated with Roblox to celebrate Nike Air Max Day.

Clearly, NFTs and the metaverse has opened up new possibilities for sports brands and fans alike. Major brands' NFT and metaverse adoption makes one thing clear: this is just the beginning of what the future beholds. Before you know it, NFTs are going to redefine the way you live, work, play, and more. So, if you don't want to be left behind, this would be the best time to learn more about NFTs and the metaverse!